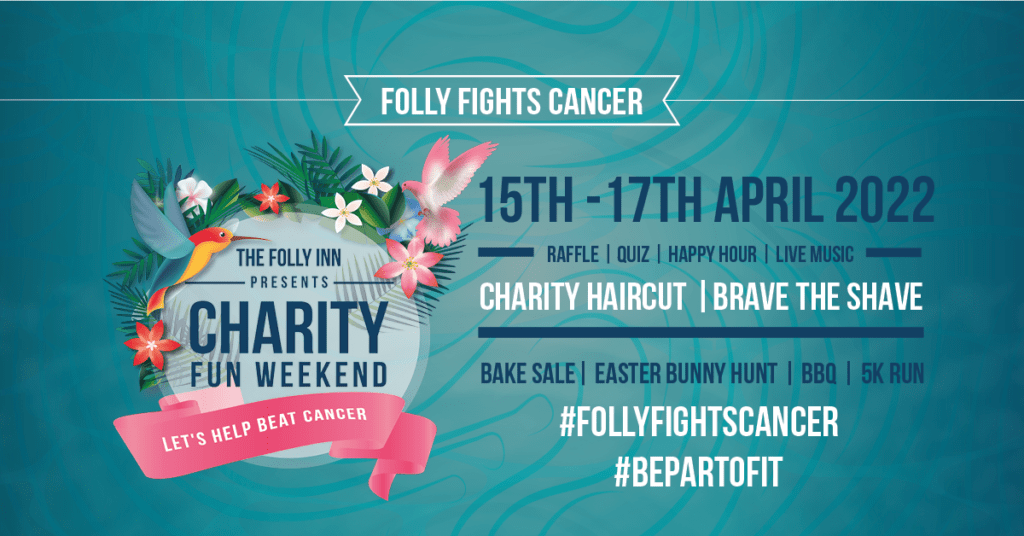 Folly Fights Cancer!
The community in Faringdon has sadly been touched by Cancer a number of times over the last few years. In memory of those we have lost and a show of support to those that are still fighting their fight, we decided to organise a charity weekend to show support to the family and friends that make up our community.
The event took place over the Easter Bank Holiday weekend at The Folly Inn, Faringdon. The aim of the weekend was to raise as much money as possible for Macmillan Cancer Support and The Little Princess Trust. It was a fabulous fun weekend with loads of activities throughout.
It actually all started with Dan House growing his hair for 18 months, in order to have enough to donate 7″ to Little Princess Trust. It just expanded from there!
It's not too late to donate – just visit our JustGiving page!
This is what went on over the weekend
Friday:-
Extended Happy Hour…..Yay, get the beers in!
Pub Quiz – hosted by Dave Hatton……..man it was tough! £400 was raised for the British Heart Foundation too!
Saturday:-
5k Fun run, with over 50 runners attending
Bake sale, everyone turned out with cake to sell
Live music from Mood Kayenne
Brave the Shave
The Little Princess Trust hair donations
Sunday:-
Town centre Easter Bunny hunt
Traditional name the bear game
Revival Vinyl played a live set
More Brave the Shave
More The Little Princess Trust hair donations
The all-important Raffle Prize Draw
Thanks to our local community and business' for donating raffle prizes, and time and mostly for turning up and having a great time. With all of the activities and roughly 3500 raffle tickets sold we smashed our target!
The Folly Fights Cancer Team
We smashed our £5,000 target and are now at £7802!!
Samuel Cordery, known by pretty much everyone in the Folly Inn (and for his attachment issues to his beard), has agreed that if we reach £10,000 then he will brave the beard shave!